The backside garden of the land is steep. When rainwater falls it runs  down and becomes a river that hits the house and effects the walls. Moist and at the end it will cause great damage. I also have the desire to make better use of the back garden, except for olive no other tree can bear the summer heat. In the summer the soil of the clay-hill becomes dry like stone. Therefor I created a first new terrace that will hold some new planted food bushes, small trees and plants that can be of use to feed ourselves. Yes; this is going to be part of the future food-forest also.. 
founded in sept 2018
When I bought the farm the walls in the front and at the back of the main building were infected by years of rainwater splash. In the rainy season it can go wild. The water ran straight from the roof in the gutter and splashed, once it hit the ground at the walls. It looked awful besides that, it ruined the walls of the 150 year old farm. In steps and after a few years of work below you can see the result of the work. Great advice and help by Martin Churchill (thank you for your inspiration) a local builder. 
Guide the flow of rainwater..
In september 2019 this job was completed with the installation of a complete new gutter that will last for years to come! Now the water is directed at the far right side and in the future will fill a water basin that can be used for irrigation.  
The back garden only holds olive trees because water ran down and soil is  dry and hars during summertime. Olive trees get around 85% of its useful water from the air. I love olive trees but my desire is to have more variety. In a few years we can enjoy the fruits, roots, leaves etc.. that are planted as off January 2020. Green as grass not skilled neither educated, but enthusiastic as i'am not afraid of nothing! First I selected plants and trees the can cope with summer heat, the dry hot weather s'well as  winters that can bring water and cold. Further on you find more info on the http://Food
Also the '22 harvest was transported over to Holland and sold among family & friends. Highly appreciate this…THANKS for your Support!!!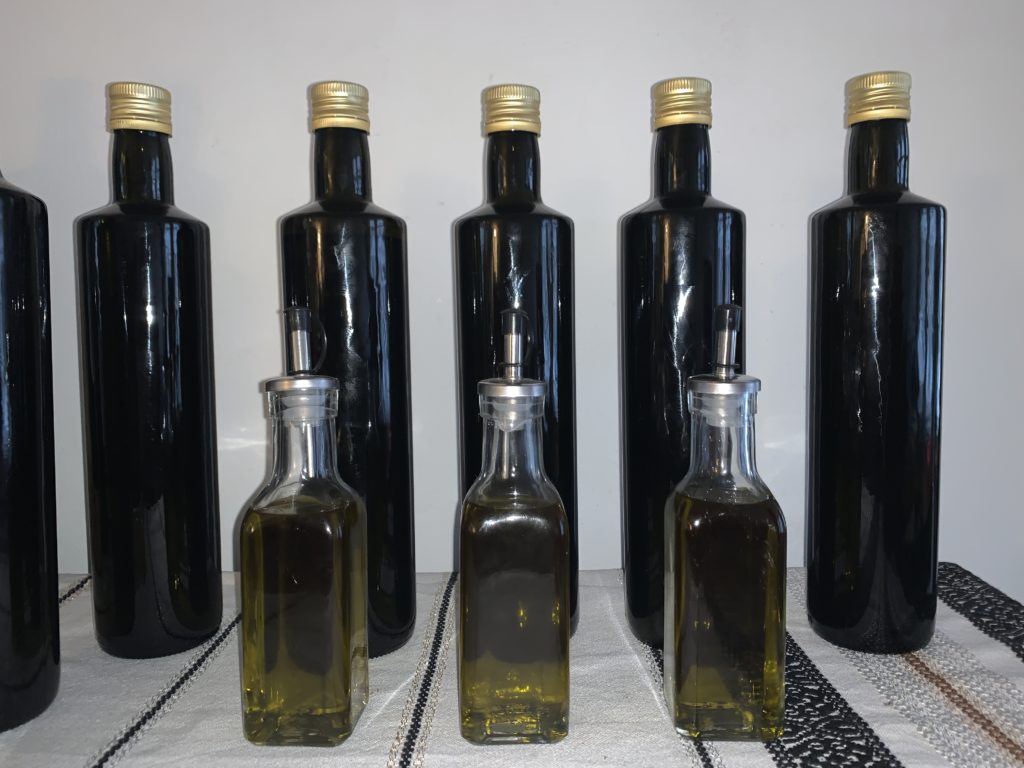 The new harvest is arrived by the end of November, all was sold in a beep. Thanks for your support. Keep in mind, harvesting olives is a lot of work, approx 10 kg of olives is needed for one liter of pure oil. Our oil is 100% Organic olive oil, picked and pressed at the local Lagar with LOVE. Also packages available as gifts for your clients over X-mas & New Year.
I hope my land will accept the choice i made.. Check https://www.harfest.nl/photogallery/the-land/food-forest/ for more info!