The Leiria district has lots to offer. 
The district is famous for its: river beaches, shist villages, rafting & canoe, hikes, markets castles and tempels dating from the pre history, Roman influence Islam and Templers not to forget the super friendly Portugese families living and taking care of their land for generations. This page gives some tips on what to do while you are there and work's done 😉
The river Zêzere is only 2 km away, a steep downhill walk along a road that leads from Jarda to Alge river. Once you bump into Alge river you turn right and follow the road on the westbank for a while. In about 1,5 km the river flows into the mighty Zêzere. This fresh-water-river runs al the way from Estrela mountains to Lisbon where it flows into the Tage. Just before they tap the water that feeds the thirsty citizens of Lisbon.
This village has a famous and wonderful restaurant Varanda do Casal. Make sure you set a reservation special in high season, it can be busy. Mother is in the kitchen and her son is maitre, not a large menu but great food. While you are there it is worth to combine with a swim at the beach of São Simão.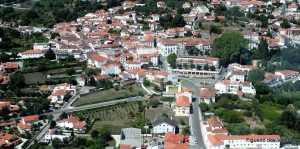 Figueiro dos Vinhos is a nice town in the area, you can find supermarkets, but more important to buy@ & support the smaller stores! It has some nice restaurants, a postoffice and buildings sites. Try Tricana for a good lunch or diner and Cafe Sol has a nice terrace in the middle of town. Its Saturday market is good fun and loads of choice in food and stuff.. all local ?
Cabaços is only 3,5 km away and has a good market on Monday. You can also find a large choice of local shops a supermarket and great shop for all kind of garden-stuff. Close to Cabaços is Alvaiázere, slightly bigger and some good choices in food ad a postoffice.
Tomar is great, 25 minutes drive take the 110 instead of the highway. The highlight is Convento de Cristo, see it you'll not regret!  Has good food and a large choice of supermarkets postoffice bars and hotels.
Coimbra is 35 minutes drive and the oldest university city of Portugal and one of the oldest in Europe. A must see!
I prefer the beaches just off Praia de Pedrogāo & Sao Pedro de Moel loads of good opportunities to park your car and enjoy the peaceful empty beaches. Watching the insane waves when its a bit windy at Nazaré is a blast.
Last but not least, visit café Manu in Arega. The parents of Nuno run a great business, cafe & supermarket for the first need!
Say hello from Hans from Jarda.